Cloud IaaS Services & Infrastructure
ACCESSIT Ltd. constantly innovating and is a pioneer in cutting-edge technologies.
Since 2012, it has been providing virtual infrastructure in remote data centers (cloud computing).
Implementing virtualization technology in an IaaS (Infrastructure as a Service) model provides high availability of computing power and infrastructure.
In essence, we disconnect the software needs for specific hardware.
ACCESSIT Ltd's cloud infrastructures deliver high performance due to their Enterprise target enabling multiprocessing and high-speed data storage through multiple SAS, NLSAS, SSD storage.
Every business can easily and cheaply acquire a virtual server or even a virtual data center (with multiple virtual servers) and implement its operating needs with access from anywhere and from any device.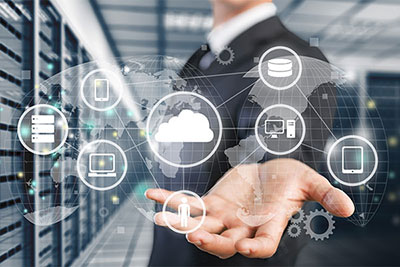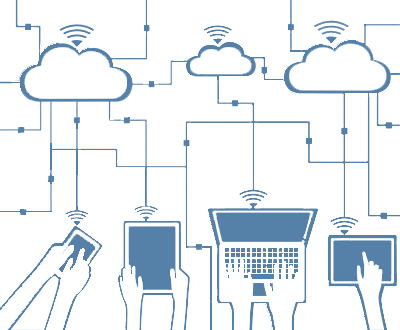 Every device (tablet, mobile or PC) is a tool to access your data.
Time is valuable and data should always be available everywhere.
You can run any application you want from our infrastructures and select any operating system (Microsoft Windows Server, Linux, etc.). Your perfect IT support and availability is not a luxury, it is a necessity.
ACCESSIT Ltd offers ISO 9001: 2008 and ISO / IEC 27001: 2005 certification through the data center for the application in the design, sales, provision of disaster recovery, internet and cloud computing services. (cloud computing). Providing maximum security and integrity of the most demanding data ensures the smooth running of your business.
Access and operation speeds for each virtual server on the Internet start at 100Mbps symmetrically (download = upload) and may increase at your choice. Scalable power and increasing need allow you to have a weighted operating cost each month.
Develop your own applications in ACCESSIT LTD's infrastructure
ACCESSIT Ltd collaborates and provides affiliate programs for IT companies who wish to implement on their infrastructure the development of their own applications.
ISV (Independent Software Vendor) programs offer high discounts and 24x7 support for all infrastructure management needs and virtual servers.
We provide Reseller, Dealer and ISV (Independent Software Vendor) programmes that offer great discounts, 24/7 support for all infrastructure administration needs and virtual servers of each partner.
Influentialed and certified system and network technicians are committed to supporting you in both management, implementation, security and technology consulting services.
ACCESSIT Ltd is working to implement its cloud infrastructure with ITALIA Telecom, VMWARE, Cisco as well as a number of the largest systems & infrastructure manufacturers in the world.
In a privately owned fiber optic network with 3 state-of-the-art data centers (datacenters) in Greece, a hub that connects Haifa and Telaviv via Athens & Crete with Catania in Italy and from there to the world.
Certified data centers (ISO 9001, ISO27001, 14001, PCI-DSS, GDPR) with a total area of 7,500 m2, in Metamorfosi, Koropi, Attica, as well as in Chania, Crete, offer a range of services based on the latest technology.
By simply resetting the initial investment of fixed infrastructure a business starts operating smoothly.
Work virtually anywhere from the internet without the need for fast or modern computers or complex applications and servers.
You can run any application - program on our infrastructure.
Every Device (Tablet, Laptop, Smartphone Mobile Phone etc) is now a tool for accessing your data.
Run any application regardless of the speed of your PC or device! Take advantage of the incredible computing power.
Why to choose an IaaS solution?
Affordable
Because it is the most affordable cloud infrastructure.
Security Because it provides maximum security to your data.
Speed
Because it serves you with a very high speed.
Computing Power
Because it provides you a high computing power.
For more information please contact us
by opening a support ticket
or by email at
This email address is being protected from spambots. You need JavaScript enabled to view it.
or by telephone at
2155 400 600
.
If you are interested in working with us at a resale level, please contact us at
This email address is being protected from spambots. You need JavaScript enabled to view it.
.
ACCESSIT provides interesting affiliate programs.