Domain Name Hosting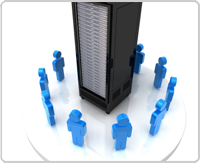 Hosting your website and any web services you require require immediate availability, security and excellent technical support. ACCESSIT is the solution for you.
ACCESSIT's cloud infrastructures deliver high performance due to their Enterprise target enabling multiprocessing and high data storage through multiple SAS, NLSAS, SSD storages.
With in-depth knowledge of web applications (PHP, Joomla etc.) and management (cPanel, Plesk etc.) we optimize our infrastructure according to your needs.
We provide public IPs and NATs throughout the network, direct NAT on demand but also Direct Public IP.
The high level of support as well as the 24 x 7 support with online support requests through the portal portal.accessit.gr cover all the needs of managing your hosting.
Find your services on the portal (services menu) and find out about their expiration date and other information such as login passwords. Useful information can be found in the FAQ.
Certified systems and network technicians are committed to supporting you in both management, implementation, security, and technology and internet consulting
ACCESSIT offers ISO 9001: 2008, ISO 14001 and ISO / IEC 27001: 2005 certification through the data center for application in the design, sales and co-location services, disaster recovery, internet and cloud computing services. Also, email updates and notifications do not leave your hosting accounts and domains to expire.
Get now your own hosting for your name instantly and safely through portal.accessit.gr.
Features that make Domain Name Hosting GDPR ready
Redundant Network
The network infrastructure is fully redundant to ensure continuity of operation in the event of a problem.
(More details: GDPR - Article 32 (1) (b))
Virtual Server Snapshot
Option to back up the virtual server at a given time.
(More details: GDPR - Article 32 (1) c)
CISPE Code of Conduct
This feature confirms compliance with the CISPE Code of Conduct and guarantees the freedom to store and process data within the European Economic Area.
(More details: GDPR - Article 40)
You choose where your data is stored
Possible to choose the infrastructure where your service is deployed in the Cloud Data Center network across Europe.
(More details: GDPR - recital 101)
For more information please contact us
here
with support ticket or by email at
This email address is being protected from spambots. You need JavaScript enabled to view it.
or by phone call at
+30 2155 400 600
.