Graphic Arts Solutions
The Graphic Arts sector covers the widest range of state-of-the-art technology as it combines the high demands of continuous operation for a successful and optimized production process.
Lost time in production is the enemy of companies in this industry. Optimizing production times in conjunction with quality control are the most important things that burden technologies in this area. Particularly this requires state-of-the-art equipment with expandable capabilities and high performance with stable operation.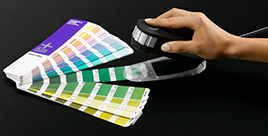 The maintenance of all these and their continuous upgrading in order to meet the ever-increasing demands of the users, has put ACCESSIT Ltd. in the first place.
Being active in this field with solutions for state-of-the-art equipment, direct support and color quality control with X-RITE tools makes it your immediate partner for any problem.
Technical support specifically for graphic arts companies, with years of experience and 12-hour daily support (09: 00-21: 00) even on a Saturday, is the best a company can have.
Representing X-RITE the world's largest specialty instrument maker is one of the strengths of ACCESSIT Ltd.
Knowledge and experience are distributed through the company's resellers and customers to familiarize them with color management technology, the right choice of processes, instruments and decisions at critical times that require knowledge to complete production. ACCESSIT Ltd. is next to each partner for the expertise and proper color management required in all areas of graphic arts technology, starting with the graphic designer's scanner or visual reader and finishing with pre-print - printing the finished product.