Systems Security
The backbone of computer systems has been their communication network for many years. Its design must be well developed with extensions, strictly secure, stable in operation, and fast enough to accommodate all our applications and future requirements.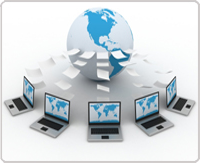 ACCESSIT Ltd. is actively working in this field with practical solutions that do all of the above to properly build the backbone of your systems, such as networks (Lan , Wan, Wifi).
Proven solutions that work for many businesses, but also internally within ACCESSIT Ltd.'s own infrastructure, come to fill all the gaps and mistakes that may have been made to date.
Without taking full advantage of our internal network, we have delays in our production and virtually no profit from technology. Network technology (LAN) should give us the best possible time saving and safer use of files stored on a central server (server), with all our stations having access to it.
Network technology (WAN) must now give us meaning, because the use of the Internet, email, file transfer (ftp), etc. services is now indispensable for the operation of all businesses in all sectors and sectors today. In this field, ACCESSIT Ltd. is developing strong partnerships with the largest systems manufacturers for specialized solutions, making technology available to you effectively delivering to your business.
Internet security is now considered a fact that we must pay close attention to. ACCESSIT technology delivers remote access solutions via VPN technology in a secure manner, based on international security standards and standards. The control and management of information disseminated through the Internet is also a very serious issue that concerns thousands of companies worldwide.
ACCESSIT Ltd. comes with proxy application filtering solutions to meet the needs of even the most demanding applications. The ability to filter emails is a major issue and a constant headache for every company but also for users, as not only does it waste time with useless emails, but it also raises the risk of accidentally installing a virus. or some malware that will allow personal information to be stolen from our personal computer.
Using antispam technology is also one of the strengths that ACCESSIT Ltd. provides. The continued availability of the Internet is a matter of concern for many companies investing in Internet services. ACCESSIT Ltd. with state of the art load balancing and fail over technologies enables us to have multiple DSL lines in our network and direct the movement of any service (eg mail, http, vpn etc.) wherever we want. and if it's not available, go to the next one. Technology that is based on fully managing our network and running it smoothly.